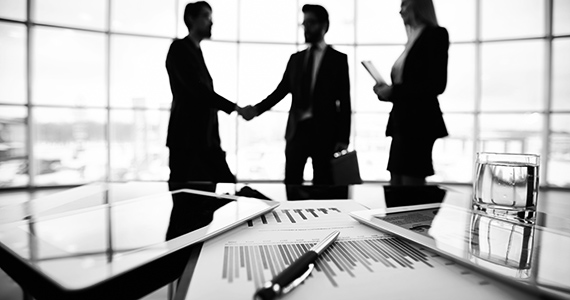 In the current climate of an international economic crisis, marked by extreme competition between law firms, clients' loyalty is difficult to maintain. This economic chaos may encourage them to question more easily the relationship with their lawyers, even when that relationship is a long-standing one.
Client development for Law Firms
Clients adopt a changing attitude with regard to their suppliers. They look for the best price, even if it means reviewing tested partnerships and questioning high-quality services. Building client loyalty and acquiring or reacquiring a client requires know-how, time and a good understanding of the market. It is no longer enough to offer an efficient service. It has become essential to know the clients well in order to understand their needs and thus be able to meet their expectations at the best price.
Nowadays, our clients expect a tailor-made service, since they already have standardized services available in-house. Our consultants who are specialized in this sector are professionals in legal services having practiced for several years both in-house and at law firms. This enables them to have an accurate knowledge of the legal market. Moreover, their active contributions to prestigious professional associations, such as the Cercle Montesquieu, the International Legal Directors' Club or the Legal Marketing Association, provide them with a broad overview of the issues at stake in legal practice.
Thanks to 20 years of experience and to their pragmatic approach, our consultants have created an optimized network based on recommendations or endorsements.
OUR FINDINGS
We consider that the legal profession is a service activity which is by definition purchased at any time of the intellectual production chain. A lawyer's service should be requested in advance, prior to completion, even if it creates uncertainty regarding the expected final outcome.
We have noted that for commercial lawyers over 80% of sources of new clients come from recommendations. This means that less than 20% of the development work undertaken by firms actually affects the opinion leaders. It is important to remember the source of a new client at all times – who referred him/her?
However, it is often difficult to correlate a specific client's turnover with the recommendation source at the beginning of the assignment. As soon as the new business relationship has started, the original opinion leader has become anonymous within our network of relations to the point he/she is no longer identified. Nevertheless he/she is crucial for potential business development. Does he/she know any other people from within his circle who might bring possible recommendations? This is the key factor for the development of a lawyer's client base.
OUR APPROACH / OUR METHODOLOGY
We have divided client development into 5 phases:
Make a list of the principal opinion leaders
Understand their motivations and their intentions for recommendations
Assess their potential for additional endorsements
Identify the latent (or dormant) opinion leaders
Establish a marketing and business plan for making contacts that are targeted.
We have regularly observed that a marketing policy based exclusively on the acquisition of new clients, without introduction or recommendation, is costlier and uncertain compared to direct action on prescribers. Indeed, the effort of prospecting a new client is not necessarily rewarded since this client is more than likely already served by a competitor who probably brings him full satisfaction.
For certain business sectors, being a "panel member" will be the key, a label without which it becomes very difficult to be able to establish a business relationship. On the other hand, an approach to an opinion leader may result in a spread of requests within the said leader's own network of relations and thus revive a request which was up until then unknown or still undefined.
Market research shows that approximately 20 to 30 % of potential opinion leaders have not referred new clients simply because they have not been requested. A suitable, methodical and carefully-prepared approach which complies with ethical rules, is likely to unlock significant growth. We spend the time which would be required of our client and take direct responsibility for optimizing the client's own potential network (1st circle) and then the one of his opinion leaders (2nd circle).
OBJECTIVE
To put in place a business development strategy, based on the network, in a methodical, tactical and targeted manner, in a way to leverage significantly the growth of clients' development. This approach enables to maintain or improve the quality of the service provided to the client, namely thanks to the opinion leaders' feedback.
CONFIDENTIALITY
Our relationships with clients are based on trust. At the beginning of each assignment a confidentiality agreement is signed with our client, so that the rules are fixed and mutually agreed.