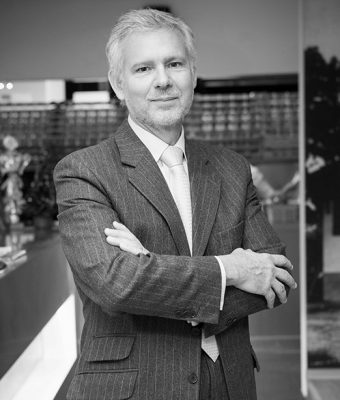 Olivier Pichot
Founder and Managing Director
Olivier, Founder and Managing Director, has more than 20 years of business experience in the field of human resources, consulting and headhunting.
He was initially trained in Nantes and worked as a lawyer in France. He started in HR consulting at Deloitte & Touche (now Deloitte SA). Later, he joined Coopers & Lybrand (currently PwC) in their management development and headhunting departments. Thereafter he was in charge of the Professional Services Practice for Europe at Boyden. Then he went on to create this European activity at Tasa (a Swiss-American headhunting firm in Zurich). After 10 years in the world of human resources, Korn Ferry proposed him to set up again the Professional Services Practices. However, he decided to set up his own recruitment company – HR Consulting Group – to be able to have more latitude by incorporating the best of what he had learned from his mentors into a new methodology.
Olivier is today well-established in the recruitment of senior positions for Lawyers (Senior Partners and in-house), Private Bankers, HR Directors, Compliance Officers, Marketing and Communication Directors, etc
In the early 1990s, corporate legal officers became more important in many French companies. As a recognized recruitment specialist, Olivier noticed that many of them did not know each other. So that they could meet, he founded the Cercle Montesquieu, which is currently still very active and well-known. Later on, with Eric Gardner de Béville, he founded the International Legal Directors' Club of Geneva, in 2010.